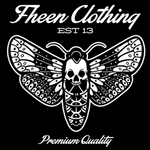 Fheen Clothing
Welcome to Fheen Clothing. Sometimes life knocks you down. Pushes you to your limit. Tests your strength and willpower. At the same time, life is invigorating, exciting and beyond rare. Overcoming obstacles and soaking in life's lessons should excite you, not put fear into your mind. When we face our challenges and any obstacles that stand in our way of our own happiness and success, we can truly appreciate life for what it has to offer. Get addicted to life. Make the most out of it.
Fheen Clothing was derived from a car accident I was involved in back in 2012. It was devastating and turned my entire life upside down. After the crash, my life had changed entirely. After some reflecting and growing from the accident, Fheen Clothing was born.
Life can be challenging, but it can also be extremely beautiful and breathtaking. Seizing the moment and living life to the fullest shouldn't just be a motto, it should be a way of life.Your way of life. Fheen Clothing is about taking advantage of the time you have here and making the most out of it by living how you want. Whether you're an adrenaline junky, love taking photos of the night sky or if you just can't get enough of life itself, Fheen Clothing is right for you. If you want to get inspired and show off your zest for living everyday, we have merchandise just for you. If you've got a passion for life and you're addicted to living in the moment, you just might be a Fheen yourself.
Instagram: @fheenclothing FaceBook: www.facebook.com/fheenclothing
Read more