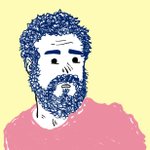 Fhil Navarro
¡Hola! Soy Fhil Navarro, una especie de artista gráfico. Formado en Barcelona (España) como diseñador gráfico, y posteriormente como ilustrador. Finalmente afincado en la Ciudad de México, donde combino mi trabajo como ilustrador y diseñador gráfico, y la formación continua.
Hi! I'm Fhil Navarro, a kind of graphic artist. Educated in Barcelona (Spain) as a graphic designer, and later as illustrator. I finally finished living in Mexico City, where my work as illustrator and graphic designer are mixed with continued formation.
Hola! Sóc Fhil Navarro, una espècie d'artista gràfic. Format a Barcelona (Espanya) com a dissenyador gràfic, i posteriorment com a il·lustrador. Finalment establert en la Ciutat de Mèxic, on combino el meu treball com a il·lustrador i dissenyador gràfic, i la formació contínua.
IG: @fhilnavarro
Read more
Fhil Navarro's Store
Filter