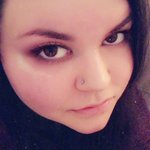 Fickta
My Name Is K r i R o s e...
I'm a NJ based artist working out of Princeton NJ, creating artworks and writings daily. It started when I was just 10 years old when I painted my first portraits, and since then I have fallen in love with the beauty and subtle colors of abstraction and the plane changes of the human face.
Sometimes, I will use different mediums in my work to create the perfect shine or contrast on the face, it depends on the lighting in the portrait and what sort of character I'd like to display in my work. But mostly, I stick to W a t e r c o l o r s, A c r y l i cs, and C o l o r e d P e n c i l s.
As previously stated I enjoy writing, and often take that into my work as well. The idea that in each portrait, there is a character to reflect on, and eyes you can look deeply into, influences my work very heavily. I take pride in creating pieces that are emotive and engaging for the viewer, and am ready to work with the customer to produce a work that truly suits them.
To date, I have had 5 gallery shows in the NJ/PA area. One of them in a favorite mini-city of mine: Lambertville, NJ. These gallery shows have really given me the chance to meet and engage with customers and art enthusiasts alike on a personal level.
Read more