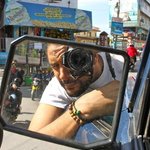 Fidel Amos
Son of an American father and Italian mother.
Spent the first 23 years of my life in Korea, Germany, Italy and the U.S.
2001 brought many new changes for me, not only the birth of my beautiful daughter, but also the decision to move to NYC to pursue acting, writing and every other form of "The Arts" I could get my hands on. Along with a hunger for "all things artistic" came the desire to make photography a major part of my life. Although it had always been a hobby of mine, it became my profession in 2006.
I lived in NYC until December of 2014, when I decided to move to Europe to "get a different perspective" on things. I'm currently based in Italy full-time…interrupted only by flights to NYC or trips abroad to shoot for clients. Like many other photographers, I have a second job, teaching (photography and English), which is my "bread" during the day. Photography and documentary/short film-making continue to be my "butter".
Read more