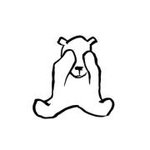 Figbar
Figbar was born by candlelight on his grandma's couch in Northern California and raised in the middle of nowhere on the beautiful Mendocino coast, surrounded by redwoods and water. Now he lives in Astoria, NY and works both as a cheese monger and a freelance illustrator. His favorite Ninja Turtle is Donatello. bashfulgraphics.com | pandabat.com Figbar joined Society6 on January 14, 2014
More
Figbar was born by candlelight on his grandma's couch in Northern California and raised in the middle of nowhere on the beautiful Mendocino coast, surrounded by redwoods and water.
Now he lives in Astoria, NY and works both as a cheese monger and a freelance illustrator.
His favorite Ninja Turtle is Donatello.
bashfulgraphics.com | pandabat.com
Figbar joined Society6 on January 14, 2014.