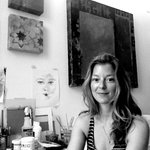 Filiz Emma Soyak
Filiz is an international visual artist living in Brooklyn, NY. Her work has been exhibited and collected around the globe. Filiz's paintings are deeply influenced by her experiences and multicultural upbringing. Born to Turkish and Swedish parents in Belgium, she spent most of her childhood in Japan, and has lived in Jordan, Barbados, and currently resides in the US. Learn more and view her full collection at: http://www.filizsoyak.com "My paintings are my stories - each one captures an experience remembered in sensory fragments. They are an exploration of the seen and the unseen; imagined and real landscapes. My goal is to explore the territory beyond the retinal experience and dive deeper into memories and subconscious impressions. "Making art helps me process what I've seen, been moved by, felt and sometimes forgotten. It allows me to process what I can't describe, telling a story that has no words. Rather, much like a memory or dream, painting allows me to explore and understand the deep visceral impressions life is all about. The process of painting helps me make sense of life, the world, my experiences, memories. The sensory feast found in traditions, rituals, and global cultures endlessly fascinate and excite me. I find inspiration most when I am exploring the world, learning about a new place, discovering its history, mystery, places, music and people. I am drawn to the energy of ancient places and worn surfaces of time. One immediately feels that there's a story behind something old. I work to replicate this - I add and take away layers - to expose and conceal textures and color... to create my own visual history." Filiz Emma Soyak joined Society6 on September 23, 2013
More
Filiz is an international visual artist living in Brooklyn, NY. Her work has been exhibited and collected around the globe. Filiz's paintings are deeply influenced by her experiences and multicultural upbringing. Born to Turkish and Swedish parents in Belgium, she spent most of her childhood in Japan, and has lived in Jordan, Barbados, and currently resides in the US.
Learn more and view her full collection at: http://www.filizsoyak.com "My paintings are my stories - each one captures an experience remembered in sensory fragments. They are an exploration of the seen and the unseen; imagined and real landscapes. My goal is to explore the territory beyond the retinal experience and dive deeper into memories and subconscious impressions.
"Making art helps me process what I've seen, been moved by, felt and sometimes forgotten. It allows me to process what I can't describe, telling a story that has no words. Rather, much like a memory or dream, painting allows me to explore and understand the deep visceral impressions life is all about. The process of painting helps me make sense of life, the world, my experiences, memories.
The sensory feast found in traditions, rituals, and global cultures endlessly fascinate and excite me. I find inspiration most when I am exploring the world, learning about a new place, discovering its history, mystery, places, music and people. I am drawn to the energy of ancient places and worn surfaces of time. One immediately feels that there's a story behind something old. I work to replicate this - I add and take away layers - to expose and conceal textures and color... to create my own visual history."
Filiz Emma Soyak joined Society6 on September 23, 2013.
Filiz Emma Soyak's Store
24 results
Filter