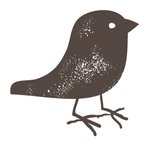 Finch Five
Hello! I am Lesley Todd and I work under the name Finch Five. I like to spend my days drawing motifs in my sketchbook, developing patterns in AI and photoshop, and tinkering with my website until my dog tells me it's time for a walk in the forest. While I work I dream of stationery shops, old travel posters and Cornish fishing villages. When I'm not designing you can find me gathering inspiration with my camera, planning my next adventure, trying a new craft or with my nose in a book. Follow me: www.thedigitalfinch.com www.facebook.com/thedigitalfinch www.twitter.com/thedigitalfinch www.instagram.com/thedigitalfinch Finch Five joined Society6 on May 28, 2014
More
Hello! I am Lesley Todd and I work under the name Finch Five.
I like to spend my days drawing motifs in my sketchbook, developing patterns in AI and photoshop, and tinkering with my website until my dog tells me it's time for a walk in the forest.
While I work I dream of stationery shops, old travel posters and Cornish fishing villages.
When I'm not designing you can find me gathering inspiration with my camera, planning my next adventure, trying a new craft or with my nose in a book.
Follow me: www.thedigitalfinch.com www.facebook.com/thedigitalfinch www.twitter.com/thedigitalfinch www.instagram.com/thedigitalfinch
Finch Five joined Society6 on May 28, 2014.