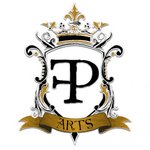 Finchley Paper Arts Ltd
Each Finchley Paper Arts Ltd. design holds components from our worldwide travels and vintage ephemera collections. Alone, these items hold their own beauty and history. In our own creative way, we pull together these images to create a visual story, capturing your imagination and recreating a moment in time. Check out our website: http://www.finchleypaperarts.com/ Contact us at: info@finchleypaperarts.com Facebook: https://www.facebook.com/finchleypaperarts/ Instagram: https://www.instagram.com/finchleypaperarts/ Finchley Paper Arts Ltd joined Society6 on October 23, 2017
More
Each Finchley Paper Arts Ltd. design holds components from our worldwide travels and vintage ephemera collections. Alone, these items hold their own beauty and history. In our own creative way, we pull together these images to create a visual story, capturing your imagination and recreating a moment in time.
Check out our website: http://www.finchleypaperarts.com/ Contact us at: info@finchleypaperarts.com Facebook: https://www.facebook.com/finchleypaperarts/ Instagram: https://www.instagram.com/finchleypaperarts/
Finchley Paper Arts Ltd joined Society6 on October 23, 2017.