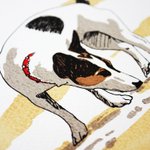 Fiona Hamilton
I am a printmaker, designer and curator based in Bristol, UK. I studied Graphic Fine Art at Canterbury.
My artwork draws on a lot of natural themes such as plants, leaves, trees and creatures including lots of birds. I mostly work directly from nature or from photographs I have taken. I regularly lug my heavy telephoto lens about to get photos of birds! I use a mixture of both traditional and digital skills in my artwork.
I have a wide range of knowledge in traditional printmaking and digital media. For the last few years I have mostly been using screen print and cyanotype in my artwork. I also use coloured metallic and matte foils to make badges and small items.
Read more
Fiona Hamilton's Store
Filter