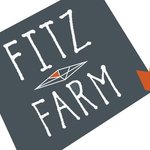 Fitz Farm
Sarah Fitzgerald works out of her studio in Denver, where she paints, designs, illustrates, and dreams of adventures. Prior to having children, she worked for 10 years at a variety of design firms, advertising agencies, and an international publishing house. Visual art and communication have been her passion from early childhood. Originally from a small town in Ohio, she has since bounced around from coast to coast— living and working from Boston Ma. to Los Angeles Ca. She is a Cum Laude graduate of DAAP where she received a Bachelor of Science in Design from the University of Cincinnati. She is an instructor at Art Makers Denver, and has participated in a number of juried art shows. www.fitzfarm.com www.facebook.com/fitzfarm instagram @fitzfarm Fitz Farm joined Society6 on September 12, 2013
More
Sarah Fitzgerald works out of her studio in Denver, where she paints, designs, illustrates, and dreams of adventures. Prior to having children, she worked for 10 years at a variety of design firms, advertising agencies, and an international publishing house. Visual art and communication have been her passion from early childhood. Originally from a small town in Ohio, she has since bounced around from coast to coast— living and working from Boston Ma. to Los Angeles Ca. She is a Cum Laude graduate of DAAP where she received a Bachelor of Science in Design from the University of Cincinnati. She is an instructor at Art Makers Denver, and has participated in a number of juried art shows.
www.fitzfarm.com www.facebook.com/fitzfarm instagram @fitzfarm
Fitz Farm joined Society6 on September 12, 2013.