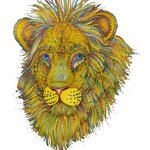 artworkbyemilie
In Spring 2016 I completed my undergraduate degree in the Bachelor of Fine Arts program at the University of Ottawa, my chosen disciplines being drawing and painting. In my abstract works I aim to create an overall sensation for the viewer, whether it be by scale, distortion, or immersion. I combine organic, free-flowing paint with the interference of detailed pattern added by hand. These approaches create various senses of movement and time, resulting in weaving confusion between foreground and background. The organic quality of paint is connected to the biological source imagery of my work, each flowing in and around details added throughout my process. These qualities of my work are intended to evoke a shared experience and show the importance of visual aspects on mental states. My illustrations have central themes of animals, pattern, and bright colours. These three components are things that make both myself and most other people feel happy. Please see my website www.artworkbyemilie.com or my instagram @artworkbyemilie for more of my work. Thank you! artworkbyemilie joined Society6 on August 10, 2012
More
In Spring 2016 I completed my undergraduate degree in the Bachelor of Fine Arts program at the University of Ottawa, my chosen disciplines being drawing and painting.
In my abstract works I aim to create an overall sensation for the viewer, whether it be by scale, distortion, or immersion. I combine organic, free-flowing paint with the interference of detailed pattern added by hand. These approaches create various senses of movement and time, resulting in weaving confusion between foreground and background. The organic quality of paint is connected to the biological source imagery of my work, each flowing in and around details added throughout my process. These qualities of my work are intended to evoke a shared experience and show the importance of visual aspects on mental states.
My illustrations have central themes of animals, pattern, and bright colours. These three components are things that make both myself and most other people feel happy.
Please see my website www.artworkbyemilie.com or my instagram @artworkbyemilie for more of my work. Thank you!
artworkbyemilie joined Society6 on August 10, 2012.
Canvas by artworkbyemilie
60 results
Filter