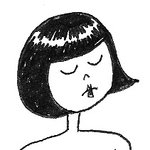 flapper doodle
kategabrielle.com kategabrielle.blogspot.com Kate Gabrielle is a self-taught illustrator, painter and certified crazy cat lady. When she's not drawing, painting, or playing with her cats, she enjoys watching reruns of The Office and The X-Files, dabbling in jewelry design, reading books about the Middle Ages (Black Death, anyone?) and debating what year to visit when time travel becomes a reality. Definitely not 1348. Kate is currently based in New Jersey, where she lives with her adorable cats, Chloe and Arrietty. flapper doodle joined Society6 on June 4, 2010
More
kategabrielle.com kategabrielle.blogspot.com
Kate Gabrielle is a self-taught illustrator, painter and certified crazy cat lady. When she's not drawing, painting, or playing with her cats, she enjoys watching reruns of The Office and The X-Files, dabbling in jewelry design, reading books about the Middle Ages (Black Death, anyone?) and debating what year to visit when time travel becomes a reality. Definitely not 1348.
Kate is currently based in New Jersey, where she lives with her adorable cats, Chloe and Arrietty.
flapper doodle joined Society6 on June 4, 2010.