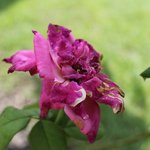 FlightsofColor
I created FlightsofColor as a way to continually justify doing what makes me happy when I'd long run out of display space to hang my art. As I began painting and decorating my home, I realized that form and color were the things I was most drawn to. I see beauty in simplicity. I see beauty in the complex. I see it in images and in words. Most of all, I see beauty in nature which somehow encompasses all this things in a beautiful juxtaposition. Though most of my colors are not "from nature," I'm inspired by color that breaths life and energy, and by words that touch us in some way. For many of these images in their original painted or embroidered (coming soon) form, please visit my Etsy store: www.etsy.com/shop/FlightsofColor Thank you so much for stopping buy and checking out my work! FlightsofColor joined Society6 on September 23, 2014
More
I created FlightsofColor as a way to continually justify doing what makes me happy when I'd long run out of display space to hang my art. As I began painting and decorating my home, I realized that form and color were the things I was most drawn to.
I see beauty in simplicity. I see beauty in the complex. I see it in images and in words. Most of all, I see beauty in nature which somehow encompasses all this things in a beautiful juxtaposition.
Though most of my colors are not "from nature," I'm inspired by color that breaths life and energy, and by words that touch us in some way.
For many of these images in their original painted or embroidered (coming soon) form, please visit my Etsy store: www.etsy.com/shop/FlightsofColor
Thank you so much for stopping buy and checking out my work!
FlightsofColor joined Society6 on September 23, 2014.
FlightsofColor's Store
123 results
Filter