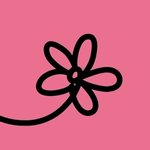 Flower Time
Welcome! This page is an offshoot of my Elephant Love page (http://society6.com/elephantlove) and is dedicated to pop art style flowers done with a minimal color palette, inspired for the most part by Andy Warhol, Maija Isola and Orla Kiely. Some designs are also available as fabric, wallpaper, wall stickers and wrapping paper on Spoonflower: http://www.spoonflower.com/collections/73661. Sometimes Society6 offers discounts and/or free shipping with promo code NK6-TTK-FYT-JHN. If that doesn't work, try copying and pasting this link into your browser and reentering the site using the link: http://society6.com/flowertime?promo=R6D3N673PZQM. Sorry, I have no control over when they offer promos, and some of the more bulky or heavy items like framed prints, canvases, rugs, and inserts for pillows may not be included in the free shipping promos. Happy shopping! Flower Time joined Society6 on August 10, 2013
More
Welcome!
This page is an offshoot of my Elephant Love page (http://society6.com/elephantlove) and is dedicated to pop art style flowers done with a minimal color palette, inspired for the most part by Andy Warhol, Maija Isola and Orla Kiely.
Some designs are also available as fabric, wallpaper, wall stickers and wrapping paper on Spoonflower: http://www.spoonflower.com/collections/73661.
Sometimes Society6 offers discounts and/or free shipping with promo code NK6-TTK-FYT-JHN. If that doesn't work, try copying and pasting this link into your browser and reentering the site using the link: http://society6.com/flowertime?promo=R6D3N673PZQM.
Sorry, I have no control over when they offer promos, and some of the more bulky or heavy items like framed prints, canvases, rugs, and inserts for pillows may not be included in the free shipping promos.
Happy shopping!
Flower Time joined Society6 on August 10, 2013.