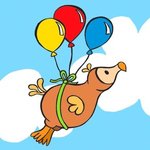 Flying Dodo Design
Hi, I'm Clair! A lover of comics, movies, pop art, dodos, travel, cats, Muppets, the 80s (Best Decade Ever!) and all things fun! Flying Dodo Design came about as I was faced with redundancy from my graphic design position that I had held for 15 years. I had always had a dream of working for myself (who hasn't?) creating fun artworks and selling them online. Thankfully, I have a fantastic husband who has been very supportive of this little project of mine. (He is also responsible for most of the photos I may use from time to time - like the gorgeous umbrella shot in Venice). Why a Flying Dodo? Dodos are my favourite animal and they're a little bit goofy... just like me! My little balloon-laden dodo shows that with a bit of creative thinking, any dream is possible... even if your head is in the clouds. How do I create my artwork? My main method of creating artwork starts with a black outline in fine tip marker pen. This is then scanned into Adobe Illustrator and converted to a vector image, where it is then coloured and enhanced providing a very high resolution image that is able to be resized without any quality loss. The photographic artwork mainly uses photos from our travels, these I play around with in Adobe Photoshop and experiment with different techniques and styles. Thanks for dropping by and I hope all your days are colourful! Flying Dodo Design joined Society6 on February 19, 2015
More
Hi, I'm Clair!
A lover of comics, movies, pop art, dodos, travel, cats, Muppets, the 80s (Best Decade Ever!) and all things fun!
Flying Dodo Design came about as I was faced with redundancy from my graphic design position that I had held for 15 years. I had always had a dream of working for myself (who hasn't?) creating fun artworks and selling them online. Thankfully, I have a fantastic husband who has been very supportive of this little project of mine. (He is also responsible for most of the photos I may use from time to time - like the gorgeous umbrella shot in Venice).
Why a Flying Dodo? Dodos are my favourite animal and they're a little bit goofy... just like me! My little balloon-laden dodo shows that with a bit of creative thinking, any dream is possible... even if your head is in the clouds.
How do I create my artwork? My main method of creating artwork starts with a black outline in fine tip marker pen. This is then scanned into Adobe Illustrator and converted to a vector image, where it is then coloured and enhanced providing a very high resolution image that is able to be resized without any quality loss.
The photographic artwork mainly uses photos from our travels, these I play around with in Adobe Photoshop and experiment with different techniques and styles.
Thanks for dropping by and I hope all your days are colourful!
Flying Dodo Design joined Society6 on February 19, 2015.