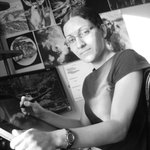 Sarahí Remolina
Hello there! I'm an aspiring illustrator, with an interest in nature, wildlife, and Biblical themes. Art is a liberating method of communication; a great way to tell stories. That will be the goal of this page. Although the stories in the Bible influence my work a lot, I hope to also create pieces that are accessible to a larger audience - who share a love for nature and wildlife. My wish is that you enjoy the art as much as I do. Thank you sincerely for your support. If you'd like to follow the artwork in progress currently, or read of the inspiration behind it, you can visit my blog at: ForestHymn.deviantart.com Sarahí Remolina joined Society6 on September 15, 2016
More
Hello there! I'm an aspiring illustrator, with an interest in nature, wildlife, and Biblical themes. Art is a liberating method of communication; a great way to tell stories. That will be the goal of this page. Although the stories in the Bible influence my work a lot, I hope to also create pieces that are accessible to a larger audience - who share a love for nature and wildlife.
My wish is that you enjoy the art as much as I do. Thank you sincerely for your support.
If you'd like to follow the artwork in progress currently, or read of the inspiration behind it, you can visit my blog at: ForestHymn.deviantart.com
Sarahí Remolina joined Society6 on September 15, 2016.