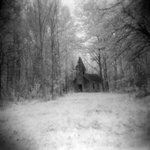 Forlorn Photography
I am a photographer based in Chicago, Illinois who spends my time documenting remnants of the past. I am obsessed with impermanence; the idea that something that could mean so much at one time could end up falling into irrelevancy. I love to explore abandoned places and try to uncover little pieces of evidence about the people who once inhabited that space, and for whom the idea of it ever being forgotten and decaying was impossible. Churches, schools, hospitals, factories - the lifeblood of entire communities, built with bold determination and optimism, before something changed and it all fell away. Still, I see the beauty within the decay, and the light within the darkness. Visit ForlornPhotography.Com for more of my images. Forlorn Photography joined Society6 on December 1, 2013
More
I am a photographer based in Chicago, Illinois who spends my time documenting remnants of the past. I am obsessed with impermanence; the idea that something that could mean so much at one time could end up falling into irrelevancy. I love to explore abandoned places and try to uncover little pieces of evidence about the people who once inhabited that space, and for whom the idea of it ever being forgotten and decaying was impossible. Churches, schools, hospitals, factories - the lifeblood of entire communities, built with bold determination and optimism, before something changed and it all fell away. Still, I see the beauty within the decay, and the light within the darkness.
Visit ForlornPhotography.Com for more of my images.
Forlorn Photography joined Society6 on December 1, 2013.
Forlorn Photography's Store
88 results
Filter