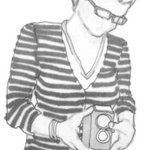 For the easily distracted...
Hi! My name is Rhianne and for the past four years I have been rediscovering my love for film photography and writing about it on my blog.
I am a blogger, photographer, designer and two time author. I am also a sister, a daughter, a girlfriend, a wannabe runner, a nerd and an avid crochet fan.
In my spare time I love to blog, take long walks on the beach, make lists, use tiles as coasters, find new cameras, experiment with instant photography, take feet photos and eat lots of roast vegetables.
I am usually smiling and over excited about something.
You can find my blog here: http://fortheeasilydistracted.com/
Read more
For the easily distracted...'s Store
1000+ results
Filter