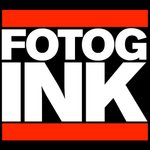 Christopher Chouinard
About Christopher Chouinard
Christopher 'Fotog' Chouinard is an artist born and raised in and around the Motor City - Detroit Michigan . Winning his first acclaim at age 5 for his illustrated book 'Unicorn' (Scholastic Awards, MI 1975 / Past Winners include Andy Warhol ) Christopher has tirelessly pursued the arts his entire life. Working under the pseudonym Fotog Ink (often referred to as the 'Tattooed Photographer') his work has been published in magazines including Rolling Stone,Juxtapoz, N.M.E.,and SPIN .He has worked at various newspapers including The Detroit News,Real Detroit and Virginia Pilot, and Virginia Link as a staff photographer and columnist . Two books featuring his photographs were released by Artnik Books in the U.K. in 2005/2006 on the bands My Chemical Romance and The Strokes . In 2013 his "Notorious BIG" painting was the final two page spread in a book based on artists influenced by rappers Biggie and Tupac.
An alumni of The Center For Creative Studies in Detroit (Which boasts Syd Mead,Ray Harryhausen and Dante Spinotti as co-alumni) his work reflects a classic 'Made In Detroit' attitude, while bringing about a modern pop sensibility often focused on the world of entertainment. 2007 marked a returned to traditional painting , recently in Dec 2010 he contributed 11 custom paintings to legendary animation artist's San Diego Chuck Jones Gallery permanent collection for a 'Grinch ' exhibit . He is currently pursuing a professional tattoo career after apprenticing in VA and CA and now tattoo's at Fat Brothers Tattoo in Highland Michigan where he has been for two years.
Society 6 is the sole gallery in which his extended drawings and line-work is available or Facebook page for more contact information ! Feel free to email about tattoo designs or commission artwork and photography. fotogink@gmail.com
Christopher Chouinard joined Society6 on August 18, 2010.