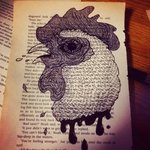 Fourd Simkins
http://fourdsart.tumblr.com Hello! My name is Fourd. I'm a student from the UK currently studying Games Design and hoping to go into either a Games or Illustration related career in the future. All works posted here are mine, feedback is well welcome! All money made here will be going to keeping me and my many pets alive and well, and also to help my friend who is currently in a very sticky situation, so please, if you do like what you see and you're able to, buy or promote! Thanks for reading, I wish you all the best, Fourd. Fourd Simkins joined Society6 on May 10, 2015
More
http://fourdsart.tumblr.com
Hello! My name is Fourd. I'm a student from the UK currently studying Games Design and hoping to go into either a Games or Illustration related career in the future.
All works posted here are mine, feedback is well welcome!
All money made here will be going to keeping me and my many pets alive and well, and also to help my friend who is currently in a very sticky situation, so please, if you do like what you see and you're able to, buy or promote!
Thanks for reading, I wish you all the best, Fourd.
Fourd Simkins joined Society6 on May 10, 2015.