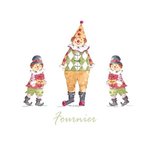 Fournier
I am an illustrator from Costa Rica. Currently I live and work in Bogota, Colombia. My original artwork is whimsical and playful, inspired by kids imagination. I particularly love working with bright color palettes. My artwork primarily consists of watercolor creations. Themes for my work consist of imagined circus characters, animals, nature and everyday events. I absolutely love creating pieces that reflect the beautiful and charming side of life. My photography reflects all the beautiful things in everyday life like nature and visits to markets. I am available for freelance work and commissions. Please feel free to drop a mail and say hello! Instagram: @petitsfournier Blog: www.andsoiwhisper.com Fournier joined Society6 on August 26, 2014
More
I am an illustrator from Costa Rica. Currently I live and work in Bogota, Colombia. My original artwork is whimsical and playful, inspired by kids imagination. I particularly love working with bright color palettes. My artwork primarily consists of watercolor creations. Themes for my work consist of imagined circus characters, animals, nature and everyday events. I absolutely love creating pieces that reflect the beautiful and charming side of life.
My photography reflects all the beautiful things in everyday life like nature and visits to markets.
I am available for freelance work and commissions. Please feel free to drop a mail and say hello!
Instagram: @petitsfournier Blog: www.andsoiwhisper.com
Fournier joined Society6 on August 26, 2014.