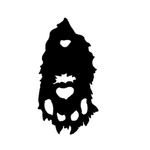 Fox Paw Presents
Work of two artists, Adria Leeper-Sullivan and Josh Feo. We offer prints of illustrations from zines available at our other web stores, or that we may create for Society6 specifically. We also take photographs: ACLS of animals and close-ups of inanimate objects; JF creates abstract and experimental landscapes. Thanks for your attention and support! -The Fox Paw Presents Team Fox Paw Presents joined Society6 on March 20, 2014
More
Work of two artists, Adria Leeper-Sullivan and Josh Feo.
We offer prints of illustrations from zines available at our other web stores, or that we may create for Society6 specifically. We also take photographs: ACLS of animals and close-ups of inanimate objects; JF creates abstract and experimental landscapes.
Thanks for your attention and support!
-The Fox Paw Presents Team
Fox Paw Presents joined Society6 on March 20, 2014.