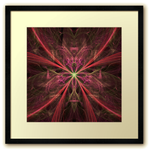 Fractal Fantasies
Original fractal artwork by Fractal Fantasies! Follow Fractal Fantasies on facebook for new product updates and special offers: www.facebook.com/fractalfantasyart As well as expressing yourself, and adding a bit of colour to your life fractal art can be great for use in meditation, the colours can help with healing, feeling, and vibrational energetics. My store has clothing, scarves, bags, and notebooks as well as prints, posters and wall hangings. All original artwork! All art is high resolution so you can see the fine detail! Nothing I sell is crested by anyone other than myself. enjoy! Fractal Fantasies joined Society6 on September 26, 2016
More
Original fractal artwork by Fractal Fantasies!
Follow Fractal Fantasies on facebook for new product updates and special offers: www.facebook.com/fractalfantasyart
As well as expressing yourself, and adding a bit of colour to your life fractal art can be great for use in meditation, the colours can help with healing, feeling, and vibrational energetics.
My store has clothing, scarves, bags, and notebooks as well as prints, posters and wall hangings. All original artwork! All art is high resolution so you can see the fine detail!
Nothing I sell is crested by anyone other than myself.
enjoy!
Fractal Fantasies joined Society6 on September 26, 2016.