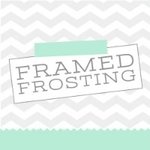 Framed Frosting
I first began my blog in April of 2011 as a way to share my thoughts with the world. I named it "Framed Frosting" but it wasn't until recently that this name became meaningful. "Framed" meaning art prints and "Frosting" showing my love for baking. I've always had a love for baking and recently found myself interested in typography. These prints are a creative way to share my secret recipes with all of you! Check out my blog: www.framedfrosting.com Framed Frosting joined Society6 on June 8, 2012
More
I first began my blog in April of 2011 as a way to share my thoughts with the world. I named it "Framed Frosting" but it wasn't until recently that this name became meaningful. "Framed" meaning art prints and "Frosting" showing my love for baking.
I've always had a love for baking and recently found myself interested in typography. These prints are a creative way to share my secret recipes with all of you!
Check out my blog: www.framedfrosting.com
Framed Frosting joined Society6 on June 8, 2012.
Framed Frosting's Store
81 results
Filter