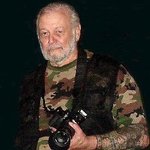 Frank Nicolosi
I was born in Brooklyn, New York. As an adult I spent most of my life on Long Island, N.Y. I have always been interested in photography, started digital Photography in the past 6 years. After I retired from the workplace I traveled and usually had a camera with me. I bought a Canon EOS Rebel DSLR and started taking photos of everything. Lately I purchased a Nikon P510 point & shoot as a backup and I am happy with the results and sometimes use it as my primary camera. I am a member of the Mena Art Gallery and The Ouachita Photo Club sponsored by Southwest Artists, inc I am also a member of Shutter Bugs Photography Club Of Waldron. Frank Nicolosi joined Society6 on February 26, 2014
More
I was born in Brooklyn, New York. As an adult I spent most of my life on Long Island, N.Y. I have always been interested in photography, started digital Photography in the past 6 years.
After I retired from the workplace I traveled and usually had a camera with me. I bought a Canon EOS Rebel DSLR and started taking photos of everything. Lately I purchased a Nikon P510 point & shoot as a backup and I am happy with the results and sometimes use it as my primary camera.
I am a member of the Mena Art Gallery and The Ouachita Photo Club sponsored by Southwest Artists, inc
I am also a member of Shutter Bugs Photography Club Of Waldron.
Frank Nicolosi joined Society6 on February 26, 2014.
Frank Nicolosi's Store
51 results
Filter