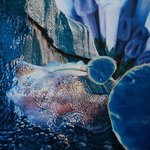 Franzi Ehmer
Artist Franzi Ehmer is a German-born mixed media artist: figurative painter, abstraction & serial doodler. Her early and intimate works surround the essence of restriction. Her artworks depict the restrictions in the mind, body and movement, along side society, culture and religion. Exploration of the theme begun with personal narrative and self-reflection leading to the facades and hidden boundaries inflicted by exterior forces. Tackling oppression and discomfort for communities and individuals is a growing passion for Franzi, and is represented in a number of her works. Rich in psychological nature and twisted images, the viewer is lured into a world of realization and appreciation. Her current works encompass abstract ideas and mix media processes. In contrast to her abstract focus and studies of the interaction between colours and shapes, her detail orientated eye has been caught by the medium of tattooing and is currently building a portfolio heavily incorporating dot work and line work. "Capturing the viewer's eye and creating an impression is ultimately what I wish to achieve through my art. Awakening as well as a sense of self discovery is left lingering in the thoughts of the viewer." - Franzi Ehmer Franzi Ehmer joined Society6 on September 14, 2014
More
Artist
Franzi Ehmer is a German-born mixed media artist: figurative painter, abstraction & serial doodler. Her early and intimate works surround the essence of restriction. Her artworks depict the restrictions in the mind, body and movement, along side society, culture and religion. Exploration of the theme begun with personal narrative and self-reflection leading to the facades and hidden boundaries inflicted by exterior forces. Tackling oppression and discomfort for communities and individuals is a growing passion for Franzi, and is represented in a number of her works. Rich in psychological nature and twisted images, the viewer is lured into a world of realization and appreciation. Her current works encompass abstract ideas and mix media processes. In contrast to her abstract focus and studies of the interaction between colours and shapes, her detail orientated eye has been caught by the medium of tattooing and is currently building a portfolio heavily incorporating dot work and line work.
"Capturing the viewer's eye and creating an impression is ultimately what I wish to achieve through my art. Awakening as well as a sense of self discovery is left lingering in the thoughts of the viewer."
Franzi Ehmer joined Society6 on September 14, 2014.
Franzi Ehmer's Store
86 results
Filter