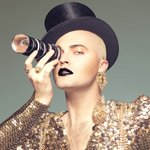 Franz Szony
My name is Franz Szony, and I am "a boy who paints with his camera." I approach photography from an Illustrator's perspective. Although my technique is more modern than my aesthetic, I deem to create a wondrous vignette that is photo-real. This way, the viewer can believe the illustration (no matter how fantastical) actually exists. I blend my neoteric perspective with my devotion to the rococo, in essence this becomes my mantra to create a lush world that is ambiguous in character. An image that is unclassifiable in time or place with a celebration of the androgynous. Each image is constructed utilizing only physical sets and live models. However, my combination of traditional theatrical techniques paired with digital hand-tinting create the illusion of a painting, even though the image is completely photographic. The prints available through Society6 are finished with a watermark. If you are interested in a hand signed original, with a limited edition of 25 pieces, please inquire. www.franzszony.com Franz Szony joined Society6 on March 2, 2014
More
My name is Franz Szony, and I am "a boy who paints with his camera." I approach photography from an Illustrator's perspective. Although my technique is more modern than my aesthetic, I deem to create a wondrous vignette that is photo-real. This way, the viewer can believe the illustration (no matter how fantastical) actually exists.
I blend my neoteric perspective with my devotion to the rococo, in essence this becomes my mantra to create a lush world that is ambiguous in character. An image that is unclassifiable in time or place with a celebration of the androgynous. Each image is constructed utilizing only physical sets and live models. However, my combination of traditional theatrical techniques paired with digital hand-tinting create the illusion of a painting, even though the image is completely photographic.
The prints available through Society6 are finished with a watermark. If you are interested in a hand signed original, with a limited edition of 25 pieces, please inquire.
www.franzszony.com
Franz Szony joined Society6 on March 2, 2014.
Franz Szony's Store
18 results
Filter