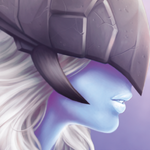 Frenone
Hi, I'm in the process of updating my store. All commissioned artworks have been taken down. If you'd like to request an artwork to be made available again, please let me know. For an overview of my art, commission status, blog updates & livestreams have a look at my website: frenone.net or follow me on Twitter @frenone. Frenone joined Society6 on October 14, 2014
More
Hi, I'm in the process of updating my store. All commissioned artworks have been taken down. If you'd like to request an artwork to be made available again, please let me know.
For an overview of my art, commission status, blog updates & livestreams have a look at my website: frenone.net or follow me on Twitter @frenone.
Frenone joined Society6 on October 14, 2014.