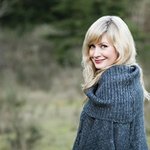 Frida Clements
Frida Clements is a PNW illustrator whose intricate line drawings and nature-inspired palette complements her distinctive Scandinavian aesthetic, in which flora and fauna are frequent subjects.
She is the illustrator of "The Wandering Goose" by Heather Earnhardt, "Gardener's Yoga" by Veronica D'Orazio and authored and illustrated the book, "Have A Little Pun" in 2015 (Chronicle Books), along with a line of accompanying journals, coasters, calendars, notecards and tea-towels.
Frida works out of her home studio in Seattle and is turning her focus to illustrating (and writing) picture books for both young and middle readers, along with a new found love of pattern and textile design — and continued love for silk-screened art prints. She loves to hike with her family and adorable corgi, and considers herself an amateur naturalist. She welcomes collaborations, particularly projects geared towards conserving nature & the environment, and nurturing creativity in children.
Read more
Frida Clements's Store
Filter