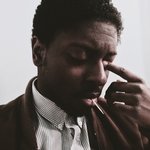 Elijah Noble El
Elijah Noble El is a 20 year old actor and writer from Michigan. The author of The Age of Recovery, a full length poetry book, he is also a poetry reader for the lit magazine Persephone's Daughters, a magazine aimed at empowering women. His short story, "Oblivion," received the Award for Excellence in Literature from the Michigan PTSA Reflections contest. His poetry has been published in Straylight Magazine, Hooligan Magazine, Exist Magazine, Eastern Michigan University's Inkstains Anthology, and in Stevenson High School's Spectrum. dolore-perdita.tumblr.com Elijah Noble El joined Society6 on January 16, 2015
More
Elijah Noble El is a 20 year old actor and writer from Michigan. The author of The Age of Recovery, a full length poetry book, he is also a poetry reader for the lit magazine Persephone's Daughters, a magazine aimed at empowering women. His short story, "Oblivion," received the Award for Excellence in Literature from the Michigan PTSA Reflections contest. His poetry has been published in Straylight Magazine, Hooligan Magazine, Exist Magazine, Eastern Michigan University's Inkstains Anthology, and in Stevenson High School's Spectrum.
dolore-perdita.tumblr.com
Elijah Noble El joined Society6 on January 16, 2015.