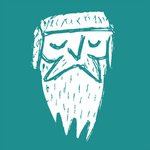 Frostbeard Studio
We (Frostbeard) are a married couple, Rox and Tom! We run a small art studio based out of Minneapolis, MN. Rox is a potter and Tom is an animator/drawer. Together we make lots of nerdy and folky things. As Minnesotans, we are also pretty serious about lumberjacks and plaid. http://frostbeardstudio.com http://frostbeard.tumblr.com http://twitter.com/frostbeardMPLS http://facebook.com/frostbeard.studio Frostbeard Studio joined Society6 on January 22, 2013
More
We (Frostbeard) are a married couple, Rox and Tom!
We run a small art studio based out of Minneapolis, MN. Rox is a potter and Tom is an animator/drawer. Together we make lots of nerdy and folky things.
As Minnesotans, we are also pretty serious about lumberjacks and plaid.
http://frostbeardstudio.com http://frostbeard.tumblr.com http://twitter.com/frostbeardMPLS http://facebook.com/frostbeard.studio
Frostbeard Studio joined Society6 on January 22, 2013.
Popular+phone-Skins by Frostbeard Studio
0 result
Filter