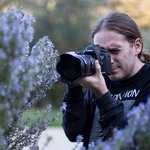 NatureSight
Hi! My name is Liberto and I'm 37 years old. I'm a self taught photographer and a full time nature explorer. While my photo prints are shipped by San Antonio, TX (USA), I live in Italy, in a little mountain town near Rome. My motto is: take a moment, look around you and appreciate the beauty of nature! With my art I hope to bring a bit of nature's magic in your home... :) Thanks for stopping by! IG: https://www.instagram.com/frozenlakemp NatureSight joined Society6 on September 27, 2016
More
Hi! My name is Liberto and I'm 37 years old. I'm a self taught photographer and a full time nature explorer.
While my photo prints are shipped by San Antonio, TX (USA), I live in Italy, in a little mountain town near Rome.
My motto is: take a moment, look around you and appreciate the beauty of nature!
With my art I hope to bring a bit of nature's magic in your home... :)
Thanks for stopping by!
IG: https://www.instagram.com/frozenlakemp
NatureSight joined Society6 on September 27, 2016.