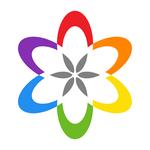 Fruitful Perspectives
Fruitful Perspectives is a dream come true for me as a person and artist. The Art and Blog content found here is a result of intense personal transformation I've made over the last 15 years. Perhaps lifetimes, who really knows, right?
While I couldn't recognize it at the time, the expansion began fresh out of college and has continued through my years of being a single parent, working full time, paying bills, and all that goes along with the twenties and now my thirties. Through all of the trials and traumatic experiences, I have always created Art. It was my way of integrating new psychological expansion and balancing emotional energies. The Art always proved to be a healthy outlet to explore and express new ideas, concepts, and forging a new way of life! It has now come full circle and unfolded into my life as a ongoing practice of conscious patterning.
Like each of us, my personal sticking points have been triggered time and time again. My tires have been deflated more than a few times on the road to eternal peace, yet the Art has always proven to be a source of inspiration and a catalyst for lasting change. I created this new business and website to showcase the Art as a way to share and give back what has proven to be useful and everlasting in my own journey. My wish is that something here will resonate with you and assist you as I have too have been assisted.
I don't believe anyone needs fixing, we simply need to find a new way to help the pieces play together more harmoniously as a unified whole. Each of the artworks featured on this site are like blueprints for your Soul or new ways to voluntarily pattern your consciousness anew. The Art and story associated with each creation I've made is my way of sharing what has helped me transform and balance my own pattern or nature. We all need friendly reminders. Why not make them visual?
Fruitful Perspectives is more than a business; it's a way of life! I have faith in each and every Soul that we all may cultivate fruitful perspectives, feelings, and ideas that inspire change for the good of ALL, producing the kind of results we would love to see continue forever. Individually and collectively.
Read more