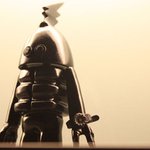 www.CREAMOUS.com
Creamous seeks to give "Character" to otherwise mundane objects. What does that mean exactly? In short, Alan's vision is such that he seeks out normal and ordinary objects, the kind of items that are found around you every day, and Alan's creative mind can't help but take those objects and infuse them with personalities of their own, building to a real sense of individuality. Creamous starts off by asking "What if this object were a living, thinking being?" What follows is the real magic of the label, when the process leads to deciphering what kind of character is built from the answer to that first question. In short, you find yourself enjoying the Brand of an artistic and fashionable version of Dr. Frankenstein. "It's Alive!" More than just an amalgamation of all that is hip, trendy and oh-so-next-5-minutes, the CREAMOUS label is the forgotten lovechild of Fashion, Art and Design – certifiably 100% F.A.D. guaranteed. www.CREAMOUS.com joined Society6 on March 15, 2010
More
Creamous seeks to give "Character" to otherwise mundane objects. What does that mean exactly? In short, Alan's vision is such that he seeks out normal and ordinary objects, the kind of items that are found around you every day, and Alan's creative mind can't help but take those objects and infuse them with personalities of their own, building to a real sense of individuality. Creamous starts off by asking "What if this object were a living, thinking being?"
What follows is the real magic of the label, when the process leads to deciphering what kind of character is built from the answer to that first question.
In short, you find yourself enjoying the Brand of an artistic and fashionable version of Dr. Frankenstein. "It's Alive!"
More than just an amalgamation of all that is hip, trendy and oh-so-next-5-minutes, the CREAMOUS label is the forgotten lovechild of Fashion, Art and Design – certifiably 100% F.A.D. guaranteed.
www.CREAMOUS.com joined Society6 on March 15, 2010.
www.CREAMOUS.com's Store
3 result
Filter