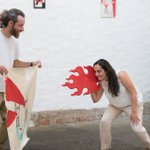 Teller & K (former Fupete)
We are Dani & Erika from Italy, we sign our work Teller & K (also Tellerk) Fupete was our artistic alter ego for more than a decade: an artist, illustrator and live drawing performer. Born and raised in Italy between the Mediterranean coast and the countryside... more on www.tellerk.com We will post here artworks from our illustrations portfolio not previously available on print form (or not available elsewhere). For editions and originals head to our website or contact us ;-) Ciao Teller & K (former Fupete) joined Society6 on November 10, 2014
More
We are Dani & Erika from Italy, we sign our work Teller & K (also Tellerk)
Fupete was our artistic alter ego for more than a decade: an artist, illustrator and live drawing performer. Born and raised in Italy between the Mediterranean coast and the countryside...
more on www.tellerk.com
We will post here artworks from our illustrations portfolio not previously available on print form (or not available elsewhere). For editions and originals head to our website or contact us ;-) Ciao
Teller & K (former Fupete) joined Society6 on November 10, 2014.