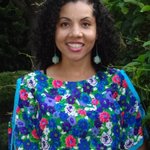 Furious Flower Designs
Juliette Acker -- Owner, Creator, Designer of Furious Flower Designs I've always had a love for fabric and pattern. So a few years ago I started making my own fabric by dyeing, painting and screenprinting. Now I create patterns digitally. I'm influenced by where I've lived - DC, New York, Sao Paulo, and now Oakland, CA. I try to incorporate my memories of growing up in DC, the energy and modernism of New York, the sensuality and colors of Brazil, and the natural beauty and laid back attitude of the Bay Area. Furious Flower Designs joined Society6 on November 27, 2016
More
Juliette Acker -- Owner, Creator, Designer of Furious Flower Designs
I've always had a love for fabric and pattern. So a few years ago I started making my own fabric by dyeing, painting and screenprinting. Now I create patterns digitally.
I'm influenced by where I've lived - DC, New York, Sao Paulo, and now Oakland, CA. I try to incorporate my memories of growing up in DC, the energy and modernism of New York, the sensuality and colors of Brazil, and the natural beauty and laid back attitude of the Bay Area.
Furious Flower Designs joined Society6 on November 27, 2016.