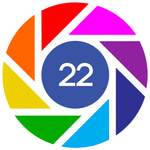 Future Focus
Future Focus Photo Reminiscence Project was a collaboration between youth organisation Blueprint 22 and Rustington Museum.
About Future Focus: Future Focus encouraged young people to explore Rustington Museum's postcard collection. They were supported to choose a selection of images from postcards to recreate, using a range of photographic methods.
The project took young people on an historical journey of Rustington, using photography as their medium. Blueprint 22 young people were instrumental in creating a new photographic collection for the Museum and were encouraged to exhibit a dynamic body of work that could be enjoyed by the wider community. Drawing on historical references and resources, the Rustington Museum Curator enhanced the growth of this project by helping to make the past relevant to a new generation of museum participants.
About Blueprint 22: Blueprint 22 is a youth organisation operating along the Sussex coastal strip from Littlehampton to Brighton, aimed at 16-25 year olds.
Blueprint 22 encourages young people to develop ideas that can be turned into community projects and learning opportunities, with guided support on their journey.
View our the online exhibition.
Read more
Future Focus's Store
64 results
Filter