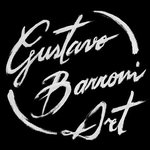 Gustavo Barroni Art
Hello and welcome! My name is Gustavo Barroni and I'm artist based in Berlin. In here you can find an assorted collection of many of my paintings and illustrations, for you to use on high quality prints or other mediums. For more information, please take a look on: Personal website: http://www.barroniart.com/ Follow me on Facebook!: https://www.facebook.com/barroniart/ and in Behance: https://www.behance.net/barroniart Enjoy! Gustavo Barroni Art joined Society6 on March 18, 2014
More
Hello and welcome!
My name is Gustavo Barroni and I'm artist based in Berlin. In here you can find an assorted collection of many of my paintings and illustrations, for you to use on high quality prints or other mediums. For more information, please take a look on:
Personal website: http://www.barroniart.com/ Follow me on Facebook!: https://www.facebook.com/barroniart/ and in Behance: https://www.behance.net/barroniart
Enjoy!
Gustavo Barroni Art joined Society6 on March 18, 2014.