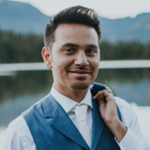 Gabino M Photo
Gabino Mabalay is a Seattle based artist that specializes in lens based art. He graduated with a Bachelors of Fine Art in 2007 from Cornish College of the Arts. Since then he has been working as a photo and video editor. Currently he is working on producing images to be transferred to traditional and non traditional art surfaces. This includes wood, encaustics, marble, canvas, and metal. He is also involved in the local steampunk community working with such designers like Lastwear and Steamtropolis. He currently offers to shoot freelance and has rates depending on the type of work. (Portraits, Model Portfolio, Advertising/Promotional, Fashion Editorial, ect) Gabino M Photo joined Society6 on March 5, 2013
More
Gabino Mabalay is a Seattle based artist that specializes in lens based art. He graduated with a Bachelors of Fine Art in 2007 from Cornish College of the Arts. Since then he has been working as a photo and video editor.
Currently he is working on producing images to be transferred to traditional and non traditional art surfaces. This includes wood, encaustics, marble, canvas, and metal. He is also involved in the local steampunk community working with such designers like Lastwear and Steamtropolis.
He currently offers to shoot freelance and has rates depending on the type of work. (Portraits, Model Portfolio, Advertising/Promotional, Fashion Editorial, ect)
Gabino M Photo joined Society6 on March 5, 2013.
Gabino M Photo's Store
131 results
Filter