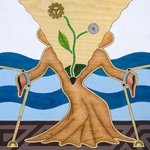 Gabriel Guyer
As a child I was enraptured by math, science, music, and art. Seemingly disparate, these four disciplines have repeatedly surfaced throughout my life in varying degrees of passion and intensity . Twenty years of web and graphic design and a lifetime of live performance has made relating to others a core part of my personality. I am fascinated and inspired by the technical precision of artists like MC Escher, the amorphous freedom of others like Max Ernst, and the illustrative prowess of Japanese animators. My art uses natural phenomena, symbolism, geometry, and partially obscured but emotional figures to relay moments in time I have experienced both first and second hand. Imagine yourself alone in the middle of a crowd. Imagine yourself connected to nature through physical and spiritual emotion. Imagine yourself escaping daily struggles to visit fantastic landscapes in the corners of your mind. These are universal moments that people experience throughout their life. My work is an attempt to share these elements of myself with all of you. Take the journey with me and know that, in truth, none of us are truly alone. Gabriel Guyer joined Society6 on December 14, 2014
More
As a child I was enraptured by math, science, music, and art. Seemingly disparate, these four disciplines have repeatedly surfaced throughout my life in varying degrees of passion and intensity .
Twenty years of web and graphic design and a lifetime of live performance has made relating to others a core part of my personality. I am fascinated and inspired by the technical precision of artists like MC Escher, the amorphous freedom of others like Max Ernst, and the illustrative prowess of Japanese animators. My art uses natural phenomena, symbolism, geometry, and partially obscured but emotional figures to relay moments in time I have experienced both first and second hand.
Imagine yourself alone in the middle of a crowd. Imagine yourself connected to nature through physical and spiritual emotion. Imagine yourself escaping daily struggles to visit fantastic landscapes in the corners of your mind. These are universal moments that people experience throughout their life. My work is an attempt to share these elements of myself with all of you. Take the journey with me and know that, in truth, none of us are truly alone.
Gabriel Guyer joined Society6 on December 14, 2014.