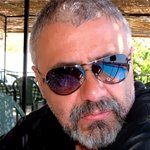 Gabriel T Toro
My name is Gabriel Torrado Toro. I am an artist, digital illustrator, and graphic and web designer based in Malaga, Spain.
Fascinated by the possibility to have a paint drying in 0 seconds and refresh it at the same time, I decided to do digital art. After doing Letraset, the iron ruler and the Rotring in different digital media; and perhaps I got a little bit tired of the limitations of digital design, and web (which they brought me lots of rewards too). I jump in to an artistic project. Probably, I am a little bit crazy, but I don't get tired in looking new ways to express my art. Let me tell you: I am happy about it. There is nothing better, sometimes, to start from scratch, there is a lot to explore and see.
See you soon!
I invite you also to visit my other web sites:
Website http://gabrielttoroart.com
Blogger (portfolio) http://gabrielttoro.blogspot.com
Tumblr (portfolio) http://gabrielttoro.tumblr.com
Samyroad (portfolio) http://samyroad.com/me/gabrielttoro
DeviantArt (portfolio) http://gabrielttoro.deviantart.com/gallery
Behance (portfolio) http://www.behance.net/gabrieltt
Olemiarte (portfolio) http://www.olemiarte.com/usuarios/gabrielttoro
Adweek Talent Gallery (portfolio) http://talent.adweek.com/gabrieltt
The Creators Project Gallery (portfolio) http://gallery.thecreatorsproject.com/gabrieltt
Pantone Canvas Gallery (portfolio) http://canvas.pantone.com/gabrieltt
Social links:
Facebook Page: https://www.facebook.com/gabrielttoro.art
G+: http://gplus.to/gabrielttoro
Twitter: https://twitter.com/gabrielttoro
I specialize in large format digital painting. I also do customized work. If you want a portrait, landscape, a frame of your movie, favorite TV series or any other artwork, please send me an email at gabriel@toroestudio.com.
Thanks for your visit,
Read more
Prints by Gabriel T Toro
Filter