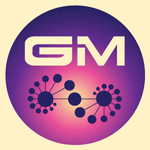 Galactic Mantra
Since our birth we have been creative in various art forms such as painting, drawing, sculpting, music, performance, video and web design. We are continually fascinated by life in all of its forms. Our vision: Peace, love and unity on our planet Earth and happiness and well-being for all its inhabitants. We firmly believe that we can help raise our consciousness and vibration with geometric designs, such as ancient symbols, mandalas, sacred geometry and ancient symbols. All of our designs help to remind us of our eternal spiritual nature. Galactic Mantra joined Society6 on June 28, 2014
More
Since our birth we have been creative in various art forms such as painting, drawing, sculpting, music, performance, video and web design. We are continually fascinated by life in all of its forms.
Our vision: Peace, love and unity on our planet Earth and happiness and well-being for all its inhabitants. We firmly believe that we can help raise our consciousness and vibration with geometric designs, such as ancient symbols, mandalas, sacred geometry and ancient symbols. All of our designs help to remind us of our eternal spiritual nature.
Galactic Mantra joined Society6 on June 28, 2014.