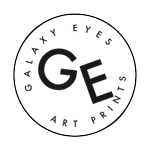 Galaxy Eyes
Here you will find designs and photographs inspired by wanderlust, music, love & nature. Galaxy Eyes can be found online - and worldwide - through Society6 but also locally, in stores around France, Brazil, Germany, Japan and United States! Cheerful prints all over the place :) Elsewhere: • Instagram: http://instagram.com/galaxyeyesart • Pinterest: http://pinterest.com/galaxyeyes • Tumblr: http://galaxies.tumblr.com Feel free to get in touch! galaxyeyes.shop [at] gmail.com Visit us at http://galaxyeyes.squarespace.com Galaxy Eyes joined Society6 on March 4, 2011
More
Here you will find designs and photographs inspired by wanderlust, music, love & nature.
Galaxy Eyes can be found online - and worldwide - through Society6 but also locally, in stores around France, Brazil, Germany, Japan and United States! Cheerful prints all over the place :)
Elsewhere: • Instagram: http://instagram.com/galaxyeyesart • Pinterest: http://pinterest.com/galaxyeyes • Tumblr: http://galaxies.tumblr.com
Feel free to get in touch! galaxyeyes.shop [at] gmail.com
Visit us at http://galaxyeyes.squarespace.com
Galaxy Eyes joined Society6 on March 4, 2011.
Bonjour Lzd_Pillow All Over Print Shirts by Galaxy Eyes
27 results
Filter