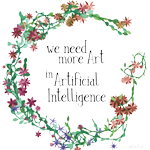 Bot Couture
Selling designs by my artificial intelligences, including Broderie, Acaelo, and a number of other unique couture algorithms. All designs are fresh and original from the AI, with few filters or modifications by a human. Get dressed by a robot! Broderie and other programs are programmed by by Kate Compton @galaxykate, a PhD student in computer science. All designs are copyright Kate Compton, until such point as Broderie becomes a legally recognized individual. Bot Couture joined Society6 on April 8, 2016
More
Selling designs by my artificial intelligences, including Broderie, Acaelo, and a number of other unique couture algorithms.
All designs are fresh and original from the AI, with few filters or modifications by a human. Get dressed by a robot!
Broderie and other programs are programmed by by Kate Compton @galaxykate, a PhD student in computer science. All designs are copyright Kate Compton, until such point as Broderie becomes a legally recognized individual.
Bot Couture joined Society6 on April 8, 2016.