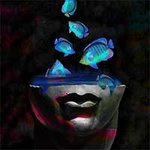 Galen Valle
Digital mixed media artist. Notorious genre-jumper.
I'm an artist specializing (mostly) in digital mixed media, digital paintings, illustrations, and photo manipulations. My artwork mostly explores people and emotions with solitude as an often recurring theme. The subjects range from the obvious to the opaque, the world is often dystopian, the characters are slightly damaged – and the moods are usually dark with an overtone of skeptical optimism.
Commissioned work includes custom portraits, book covers, art for children, posters, book illustrations, album cover art, prop art & set dressing artwork for films and television – as well as various other artwork for both digital and print use.
All artwork is copyright ©2021 Galen Valle. All rights reserved.
I also occasionally do some geekish novelty stuff and scribbles when I'm in the mood.
Website: http://www.galenvalle.com/ Facebook: https://www.facebook.com/galenart
Read more
Prints by Galen Valle
Filter