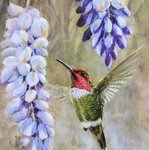 Gamini Ratnavira
Gamini Ratnavira is a renowned tropical wildlife artist originally from Sri Lanka.
He resides in Southern California with his wife Lisa and is currently painting all the Hummingbirds of the world, 338 species. He is a member of Society of Animal Artists and the founding artist of Reflections of Nature Wildlife Art Show.
Gamini Ratnavira was born and raised in tropical Sri Lanka. As a self-taught artist he uses his photographic memory and life experiences to produce vibrant, colorful images of the rain forest flora and fauna, which are complimented with intriguing stories about his work with wildlife and research information about each painting. His paintings reveal his love for art coupled with an unrestrained, lifelong reverence for nature and animals. After earning unequaled praise in his native land, Gamini moved to the U.S. where he continues a successful art career in Southern California. He is a member of the Society of Animal Artists and Artists for Conservation and has exhibited with Birds in Art and Arts for the Parks top 100 tours, as well as shows across the United States. His work is collected worldwide including 43 paintings in the San Diego Natural History Museum, and many other conservation organizations. He has traveled to over 50 countries researching endangered wildlife everywhere, amassing a life bird list of over 4,000. He illustrated Birds of Sri Lanka and Mammals of Sri Lanka and is currently working on Endemic Birds of Sri Lanka, a coffee table book of Sri Lankan Birds. He has also illustrated 38 official postage stamps for Sri Lanka, where over a third of the land is set aside as natural conservation land.
Read more
Notebooks by Gamini Ratnavira
Filter
Notebooks by Gamini Ratnavira