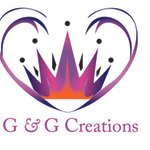 G & G Creations
Twin sisters that share a special friendship and a love for the arts. Gabrielle, a recent Bachelor of Fine Arts graduate, finds her inspiration in concepts or alternate realities, the ideas of the subconscious and spatial theory. Geneviève, an artist with special needs, loves to paint with acrylics and mixed media. She enjoys sharing her art with others to make them happy. As you can see from most of her paintings, her favorite colour is pink! What does the G & G Creations logo represent? Well Geneviève is known amongst her family and friends as a "Princess", therefore the crown. Gabrielle represents the heart for the love and support she gives her sister. G & G Creations joined Society6 on December 12, 2016
More
Twin sisters that share a special friendship and a love for the arts.
Gabrielle, a recent Bachelor of Fine Arts graduate, finds her inspiration in concepts or alternate realities, the ideas of the subconscious and spatial theory.
Geneviève, an artist with special needs, loves to paint with acrylics and mixed media. She enjoys sharing her art with others to make them happy. As you can see from most of her paintings, her favorite colour is pink!
What does the G & G Creations logo represent? Well Geneviève is known amongst her family and friends as a "Princess", therefore the crown. Gabrielle represents the heart for the love and support she gives her sister.
G & G Creations joined Society6 on December 12, 2016.