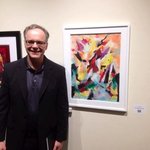 GJ Gillespie artist
My artwork is inspired by the natural world, the abstract expressionist masters and both ancient and modern ethnographic designs, especially the art of northwest native peoples. Ancient Greek art and cave paintings are favorite subjects. Most of my creations are abstract compositions that sometimes come to me in dreams. I see a painting in the dream, then try to paint it the next day. My aesthetic is guided by the belief that works of art should express the emotions associated with beauty. The best art will tap unconscious feelings of longing for existential meaning that emerge from cultural icons. This means that abstraction should be more than design or photographic reproduction. Instead, art should evoke connotations that permit the viewer to experience a sense of wonder, awe and new perspectives of being. GJ Gillespie artist joined Society6 on July 10, 2016
More
My artwork is inspired by the natural world, the abstract expressionist masters and both ancient and modern ethnographic designs, especially the art of northwest native peoples. Ancient Greek art and cave paintings are favorite subjects.
Most of my creations are abstract compositions that sometimes come to me in dreams. I see a painting in the dream, then try to paint it the next day.
My aesthetic is guided by the belief that works of art should express the emotions associated with beauty.
The best art will tap unconscious feelings of longing for existential meaning that emerge from cultural icons. This means that abstraction should be more than design or photographic reproduction. Instead, art should evoke connotations that permit the viewer to experience a sense of wonder, awe and new perspectives of being.
GJ Gillespie artist joined Society6 on July 10, 2016.
GJ Gillespie artist 's Store
277 results
Filter