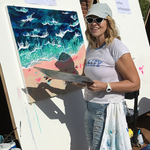 Gasbombgirl - Ocean art by Sandy Gaskett
Sandy Gaskett is a rapidly emerging ocean artist, living in the coastal suburb of Coogee Beach, Western Australia.
Renowned for producing unique and vibrant ocean artworks, she is capturing a national and international audience.
As a surfer and lover of all things oceanic, she finds inspiration in capturing the natural flow of the ocean and teaming them with the beautiful hues of oceanic blues and turquoises.
Sandy's quirky 'birds eye view' seascape pieces are colourfully enriched with happy and detailed tiny people reminiscent of any local beach environment, and will often include her clients family by request. among the colourful and adorable details she is famous for.
You can find out more on my Instagram account https://instagram.com/gasbombgirlart
Read more
Gasbombgirl Ocean art by Sandy Gaskett's Store
Filter
Gasbombgirl Ocean art by Sandy Gaskett's Store