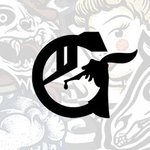 Colin Gauntlett
Gaunty (aka Colin Gauntlett) has been doing all types of art his whole life. Having travelled the world extensively for several years after finishing a 3D design course at university, he realized that 3D art was not a very functional way to express himself when living out of a suitcase and subsequently fell into the ever accessible 2D art world of the internet. Over the past few years he has designed for many clients, tailoring to many different genres from colourful 80's inspired designs for t-shirts to Celtic designs for tattoos, whilst always injecting his own style of clean lines and quirky ideas to the pieces. Colin Gauntlett joined Society6 on December 20, 2010
More
Gaunty (aka Colin Gauntlett) has been doing all types of art his whole life. Having travelled the world extensively for several years after finishing a 3D design course at university, he realized that 3D art was not a very functional way to express himself when living out of a suitcase and subsequently fell into the ever accessible 2D art world of the internet.
Over the past few years he has designed for many clients, tailoring to many different genres from colourful 80's inspired designs for t-shirts to Celtic designs for tattoos, whilst always injecting his own style of clean lines and quirky ideas to the pieces.
Colin Gauntlett joined Society6 on December 20, 2010.
Phone Skins by Colin Gauntlett
1 result
Filter